My parents have come to Japan to visit, and I've been babysitting them around Tokyo for the past few days.  I've tried to introduce them to some of the places in Tokyo that I frequent, and get them out and around to see some of the sights.
On Thursday and Friday nights after I finished work, I took them to two different izakaya (Japanese style pubs), one of them being a place in Ebisu that I like called Jackpot (English review).  On Saturday, it was showing them around my apartment, local area and out to Shimokitazawa for lunch at an okonomiyaki place that I've found.  Dad wanted to check out the Mont Bell shop in Shibuya, with all of its great outdoor gear – I stand a chance to spend a bit of money in there this coming year…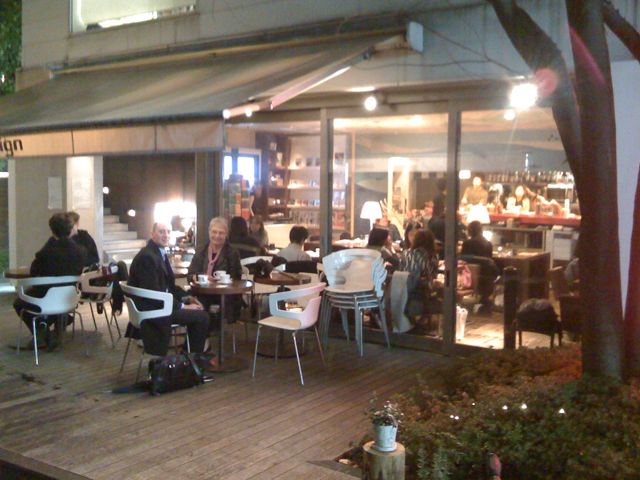 Then it was to Cujorl in Sarugakucho for dinner.  Cujorl is a fusion trattoria which only opened in January – it's down the street from my apartment, and this was the second time I've been there.  The food was excellent, as was our bottle of Nomin dry white from Coco Winery, up in Tochigi Prefecture.  I think Dad was surprised how good a Japanese wine could be – he was expecting something terribly sweet and fruity. (I'm now getting ideas for a day trip up to Coco's tasting cellar and cafe one sunny weekend.)
On Sunday, the weather was magnificent, and we took a day trip to Enoshima and the Daibutsu (Big Buddha) at Kamakura, south west of Tokyo.  Enoshima is a small island linked to the mainland by a causeway, and has a series of jinja (Shinto shrines), tourist shops, and escalators to take visitors to the viewing tower on top of the hill in the middle of the island.
[nggallery id=50]
Getting to Enoshima is easy by the Enoden line from Kamakura.  It's a charismatic single-track line that travels through lots of narrow bends through tight valleys, along a main street like a tram, and then affords and views of the surfers at the Pacific Ocean beach along near Enoshima. There is even Enoden merchandise for sale for the train nerds.
We headed to Enoshima to try to see Fuji-san before the haze of the day obscured it, and were rewarded with a slightly hazy, but still distinct snow-capped Fuji-san on the horizon.  This photo is on zoom.
Last Sunday was the Enoshima Spring Festival, which brought out a *lot* of people, but also a carnival atmosphere with performances and festival food stalls set up.  We watched all the people coming and going along the causeway, then had one of the worst lunches I've had in Japan.  The lady running the restaurant was far more concerned about touting for new customers out on the street, and not looking after customers she'd managed to drag inside.  The wait for food was lengthy, the service non-existent, and when the food turned up, it wasn't very good.  It was comical to talk about what Gordon Ramsay would be doing to fix it though…
I like a good warning sign in Japan.  This warning was about hawks, which it says swoop from behind and eat your lunch.  Didn't see any angry hawks attacking people, but we did see them soaring majestically above.
Enoshima was more than just a little busy with all the crowds.  The nice weather (after a rainy day on Saturday) and beginning of spring brought everyone out.
Our last stop for the day was the Daibutsu (Big Buddha) at Kamakura.  From Enoshima, it was back on the Enoden line to Hase, where we battled squadrons of grannies knocking into us up narrow footpaths.  Mum found that a bit tough going with her sore knee.  Anyway, it was a few hundred metres from the station, and the Dad & Dave combination posed for another photo in front of another famous landmark.
Dad has been blogging on his site about his experiences in Japan this trip.  It's interesting to see how his impressions of Japan are very different to mine – I guess that's the difference between the longer term resident and the short-term visitor.  Although it's not their first time to Japan, I've still been amused watching what amuses them here, or what they look on at in wonderment.  Here are links to dad's blog posts so far:
At Matsumoto, mum & dad stayed at Sakamoto no Yu, a ryokan at the Asama Onsen district, which is run by the parents of one of my friends.  The owners, Mr & Mrs Takizawa were apparently very generous taking the time to show mum & dad around Matsumoto.  I've stayed there before, and can certainly recommend it as a great place to stay, explore Matsumoto and enjoy the onsen.
Finally, here's another panorama shot, this time from Enoshima back to the mainland.