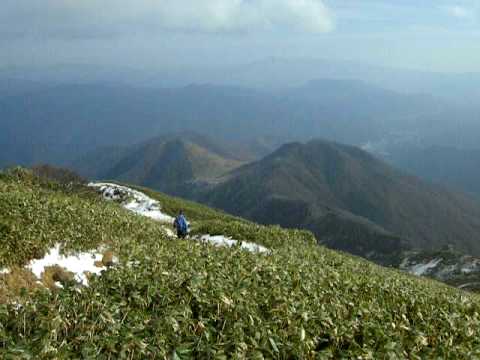 This long weekend, I was determined to head up to the mountains to try to see the autumn colours, before they disappear for the season.
A friend, Jamie, and I decided to head to Tanigawa-dake, a mountain on the border of Gunma and Niigata Prefectures.  The attraction was meant to be the great scenery, ease of access, a remote railway station with a crazy underground platform, and a ride on a cable car towards the top of the mountain.  You might think that a cable car is cheating, but it's the Japanese way, and saved 750 metres in elevation from the bottom.
It turned out that Tanigawa-dake has claimed over 700 mountaineers, and is regarded as being a tough one.  We were told as we descended Nishikuro Ridge that this ridge is one of Japan's top three tough descents.  Trust the Japanese to rank everything, we thought, although Google hasn't been able to tell me yet whether this is actually right or not.
We left Tokyo on an early shinkansen, and connected on a local train to Doai.  This is a tiny station in the mountains, with no shops, houses or anything close by.  It's a 15 minute walk up the road to the cable car station, where we found that all the tour groups of ojii-chan and obaa-chan who'd been on our shinkansen had been taken there directly on tour buses, and were already queued up to get on a gondola.  The line inside the cable car station must have been 150 metres long…  We could have been a long way up the mountain before we got the front of the line.
Once whisked to the top, there were the usual crowds to avoid before we found the trailhead and headed up the mountain.  As Jamie said, 20% of our energy was directed at the obligatory "konnichiwa" and "ganbatte ne" to the other hikers.  It had snowed the day before, and the track was slushy in parts, and slippery in others, with a layer of snow on the upper slopes of the peak.  Another hiker pointed out Mt Asama in the distance, which, on squinting carefully, had a white plume of volcanic ash emerging from it.
On the way up, we had our photo taken by a photographer from "Yamakei Joy" magazine, which (based on my visit to a bookshop today) appears to be a magazine aimed at women hikers.  It has all the important articles for women hikers – including one in the current edition about how to keep the sweat and body odour to a minimum when out hiking.  If we don't make the cutting room floor, Jamie and I are scheduled to have our photo published in the next edition.  We think that this could be our lucky break in attracting Japanese hiking chicks, although you saw us on this blog first…
Although clear when we started out, the clouds were starting to roll in when we reached the top, and the wind was starting to bite.  We ate out bento on a sheltered rock, whilst we made a decision about which way to get down the mountain.  The original plan was to walk along the ridgeline and descend down to the next railway station, but it was clear that the snowy track was going to make progress too slow to allow enough time for this.  So we saw a sign descending another ridge back towards Doai, and took it.  This was the Nishikuro Ridge, which is apparently highly regarded by Japanese hikers (and mountaineers in winter). We passed a sign warning of danger for the inexperienced, which only encouraged us to continue.  There were a few scrambles over rocky sections, and after a 1,300 metre descent, we reached the bottom of the cable car line, just as it was getting dark.  As if we hadn't descended far enough, we then had to descend all 462 steps to the underground Platform 2 at Doai station.
And the autumn colours?  Well, we were a week or so late that high up in the mountains, although there were a few splashes of colour still evident lower down the slopes.  But we did see a snake, which looked a little lethargic in the cool weather.
I'm experimenting with a new type of photo galley, so click on the below photos to see them individually.